DDFonts for Blackberry

Tag: fonts blackberry storm, fonts blackberry curve, fonts blackberry 8830, fonts iphone,fancy fonts blackberry messenger, install fonts blackberry playbook, blackberry support chinese, fontcollection blackberry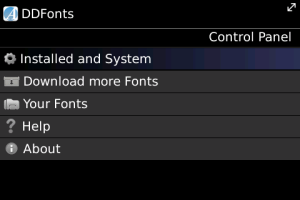 Item Description
Managing fonts on BlackBerry. Although you are using system font or new font have been downloaded, you can set Font Size, Font Style, Font Effect, Font Antialias
View and select a font available in the list of system fonts from OS for setup.
To download and install/uninstall a new font for your BlackBerry smart phones.
You can use PC and find more new fonts on internet download, copy, and paste into folder fonts on BlackBerry or download new fonts on store more than 2000 fonts on server from BlackBerry device.
PLEASE READ
The DDFonts application only support to the Fonts have to format .ttf and size less than 90kb.
OTA:
OS 5.0
|
OS 6.0
|
OS 7.0
|
OS 7.1